Administrative
Owner
Josh Russom
Bachelor's degree in Accounting and Finance from Auburn University of Montgomery Married 9 years, and have 3 boys. I love being physically active. I enjoy wakeboarding, waterskiing, snowmobiling, snowboarding, mountain biking and spending time with my family. I am very competitive in nature and I love a challenge. This business has certainly been a challenge. I am looking forward to what the future years hold at Redstone Harley-Davidson®.
Vice President / Owner
Andrew Campbell
Chain Operations Management and Marketing, I also have a MBA. I have worked for the Harley-Davidson Motor Company for almost 10 years now. I have held roles focused on purchasing, product development, product management, supplier management, research & development, field & dealer analytics/operations and most recently District Manager of Alabama and parts of Florida. In my Personal Life, I am married and have two young daughters. As a family, we enjoy the outdoors, traveling, and boating.
General Manager
Nigel Lue
Sales
F&I Manager
Franchesca Rivera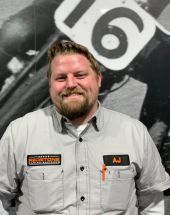 Sales Associate
Christopher Sheffield
Parts & Accessories
P&A Expert
Earl Connors
Earl Rides like a Bad Ass and knows everything about Harley-Davidson. Test him today.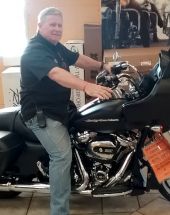 Parts to Service
Mike Braswell
Service
Director of Parts and Service
Glenn Crane
Service Writer
Jerry Geller
His best feature is his amazing wife, and his 15 years in the business.
SERVICE WRITER
Jess MCALLISTER
Tech
Aaron Wagner
Been Spinning Wrenches for over 10 years
Tech
Jon Clines
Like's to work out, impress girls, and work on his custom Harley-Davidson's
MotorClothes
Director of Motorclothes
Charlotte Pierce
MotorClothes®
Stephanie Blankenship
Motorclothes
Brittany Levi
Marketing
Marketing Manager
Michael McSwain
When Michael is not banging on the drums or being a rock star dad, he makes sure Redstone offers kick-ass events and promotions. For a good time join Michael at Redstone.
Hospitality & Marketing Assistant
Amber Parvin
Riding Academy
---
At times we are on the look out for individuals to join us who share our passion and commitment. If this is you and you are interested in working with us, please get in touch